Advanced Product Development
Discover the difference of custom stamping.
Conceptualizing your product in new ways based off your needs.
Trans-Matic has a dedicated advanced product development team that will work with you on your custom design needs. The team will gain familiarity with the specific needs and dynamics of your product while it is still in the conceptual stages.
Our specialists include engineers accredited in value analysis and value engineering, and our advanced product development services play an essential role in achieving our customers' cost reduction objectives. In addition, our reverse engineering efforts can reduce or eliminate components within an assembly for a more reliable metal structure.
Whether you only have an idea sketched on a napkin or complete CAD files for your product, we have the design, engineering, and manufacturing capabilities to deliver the high precision, high quality stamped parts you need.
The Trans-Matic Process
Our advanced development process follows 10 critical steps before producing the final product.
Application engineers conceptualize new product through conversation with customers
Trans-Matic renders parts in 3D computer visuals
Feasibility analysis with customers to assure success
Decisions on tooling and construction materials
Customers test prototype design during Finite Element Analysis
Rapid stereolithography (SLA) for plastic prototypes
Build out of prototype die set
Trans-Matic toolmakers draw parts from raw material
Customer tests in live environment with Trans-Matic support
Product is ready for launch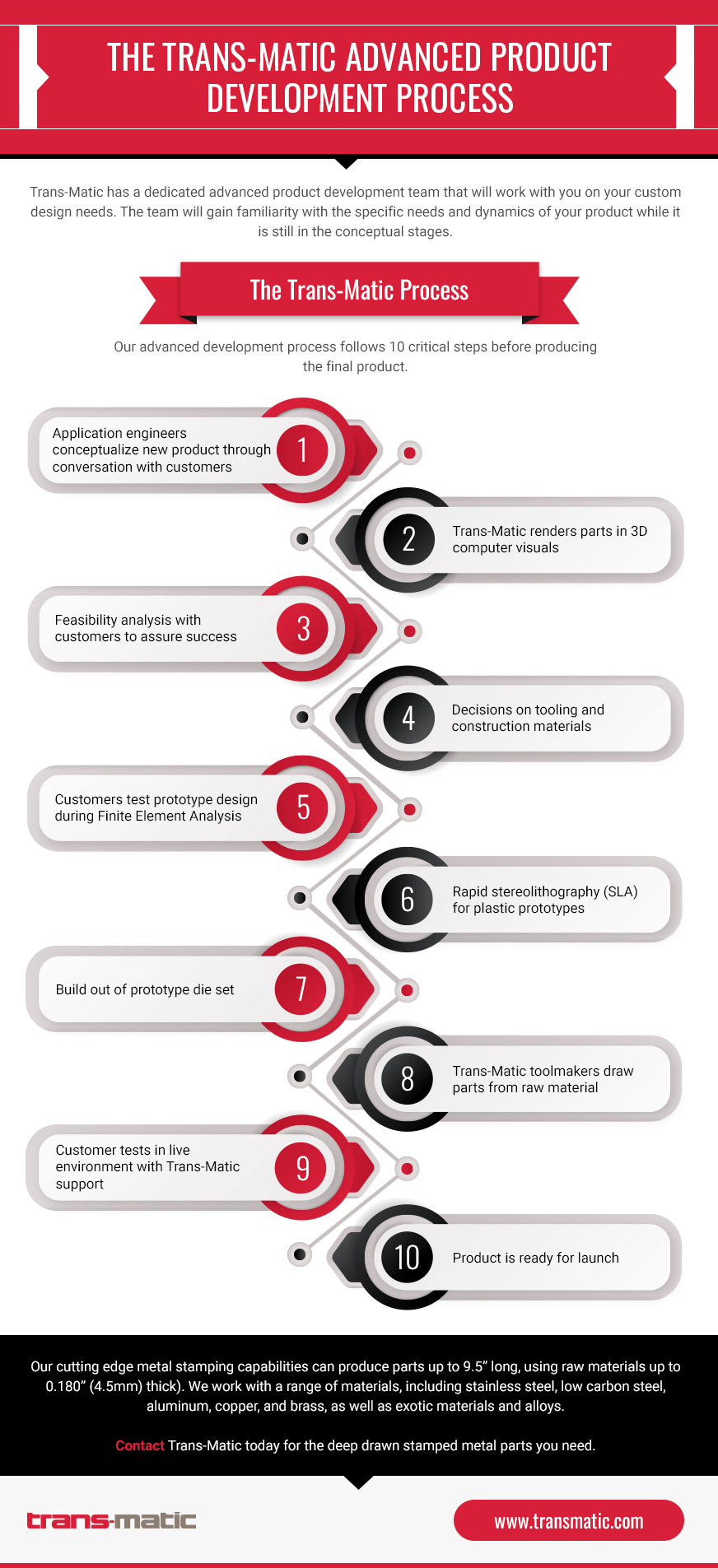 Our cutting edge metal stamping capabilities can produce parts up to 12" long, using raw materials up to 0.180" (4.5mm) thick). We work with a range of materials, including stainless steel, low carbon steel, aluminum, copper, and brass, as well as exotic materials and alloys.
Contact Trans-Matic today for the deep drawn stamped metal parts you need.
50 yrs
of stamping experience